Royal Chrysanthemum Shampoo is one of the richest herbal shampoos available, developed for dogs and cats who suffer from flea related problems.
The combination of Penny Royal Oil, Cedar Wood Oil & Chrysanthemum extract, creates a unique blend of skin refreshing herbs acting as a natural alternative to pesticides, and providing a unique barrier on the animals coat. Dogs and cats alike benefit from Royal Chrysanthemums herbal properties which remove odor, condition skin, restructure the coat, and clean with one washing, and our product is safe for you, your pets and the environment.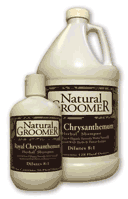 ACTIVE INGREDIENTS:
Chrysanthemum Extract, Penny Royal Oil, Aloe Vera Gel, Jojoba Oil, Avocado Oil, Cedar Wood Oil, Calendula Oil, Camille Oil.